THE SKINFLUENCER
LIMITED EDITION BUNDLE $92 → Valued at $114
For when all your skincare essentials hit pan at the same time & ur ready to meet your new fav skincare. Some think essentials = basics... not us. Essentials are the holy grail products you can't live without, and anything but basic. Freck's Skinfluencer Bundle is here to share the skincare secrets you wish you had adopted years ago. Our bestselling ON REPEAT, FORECLAY, RICH BITCH & SO JELLY offer the perfect double-cleanse, hydration protection routine.
Freck stands behind our products 100%. We offer free returns up to 14 days after you receive your package.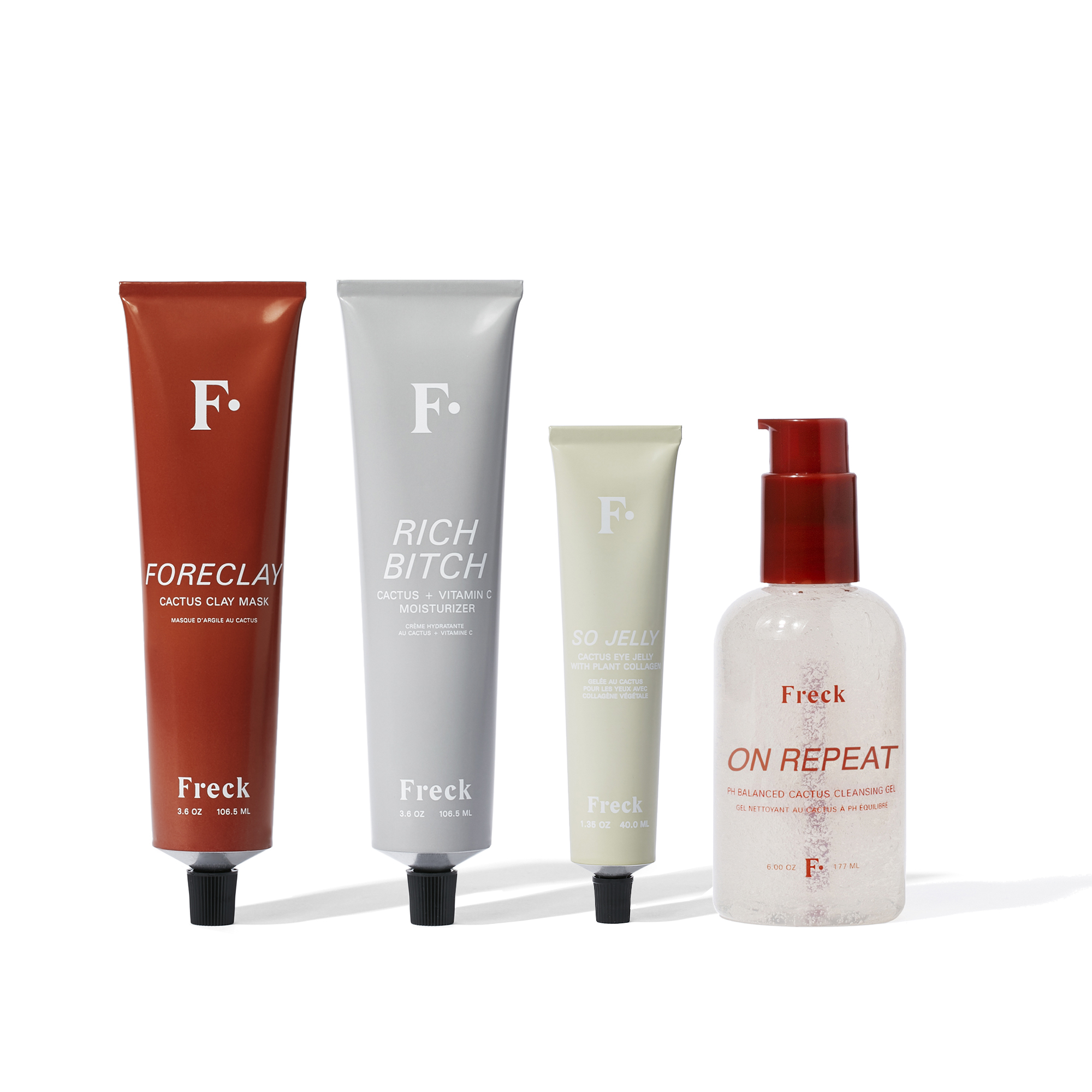 WHAT OUR CUSTOMERS SAY:
"First of all I never write reviews- but for this set I absolutely have to. About a year ago I started getting acne on my cheeks out of nowhere, and for the last ten months nothing has been able to stop it. I've tried Drunk Elephant, Origins, Sunday Reily, and the list goes on. This set is absolutely amazing!!! My acne scars have dramatically decreased and my skin is glowing."
-Verified Review From Lina
PRODUCTS DETAILS:
ON REPEAT moisturizes with cactus flower while cleansing and nourishing the skin with antioxidants. Finally, a cleanser that works with your moisturizer, not against it.
FORECLAY: You got this, babe. Avoiding eye area, apply FORECLAY to a clean face and allow to dry for 15-20 minutes. Rinse well and follow with LIL PRICK serum for the ultimate cleanse & moisture combo.
RICH BITCH: The light yet rich ultra moisturizer of your dreams. Morning and night, pat a small amount between fingertips and press into cleansed skin. Don't forget to pair with SO JELLY. You're killing it.
SO JELLY: Improve skin luminosity daily using Freck's best selling Cactus Eye Jelly with Plant Collagen. Reduce the appearance of dark circles & wrinkles by gently applying SO JELLY to your under-eye and crows feet areas. Using an eye cream twice daily is essential for younger-looking skin and for keeping lines and wrinkles at bay. Do your future self a solid, you won't regret it.
INGREDIENTS:
ON REPEAT: Water (Aqua), Glycerin, Poloxamer 184, Propanediol, Hydroxyethyl Acrylate/Sodium Acryloyldimethyl Taurate Copolymer, Citrus Glauca (Desert Lime) Fruit Extract, Santalum Acuminatum (Desert Quandong) Fruit Extract, Cereus Grandiflorus (Cactus) Flower Extract, Acacia Victoriae (Gundabluie) Fruit Extract, Daucus Carota Sativa (Carrot) Root Extract, Chenopodium Quinoa Seed Extract, Panax Ginseng Root Extract, Oryza Sativa (Rice) Extract, Glycine Max (Soybean) Seed Extract, Potassium Hydroxide, Butylene Glycol Allantoin, Polysorbate 60, Sorbitan Isostearate, Phenoxyethanol, Ethylhexyglycerin.
FORECLAY: Water/ Aqua/ Eau, Kaolin, Coco-Caprylate/Caprate, Glycerin, Magnesium Aluminum Silicate, Polysorbate 60, Cereus Grandiflorus (Cactus) Flower Extract, Opuntia Ficus-Indica (Prickly Pear) Seed Oil, Ascophyllum Nodosum (Kelp) Extract, Phenoxyethanol, Hydroxyethyl Acrylate/Sodium Acryloyldimethyl Taurate Copolymer, Xanthan Gum, Ethylhexylglycerin, Butylene Glycol, Sorbitan Isostearate.
RICH BITCH: Water (Aqua), Coco-Caprylate/Caprate, Caprylic/Capric Triglyceride, Hydrogenated Palm Oil, Cetearyl Alcohol, Glycerin, Cetyl Alcohol, Stearyl Alcohol, Simmondsia Chinesis (Jojoba) Seed Oil, Hydrogenated Coco Glycerides, Cereus Grandiflorus (Cactus) Flower Extract, Opuntia Ficus-Indica (Prickly Pear) Seed Oil, Cocos Nucifera (Coconut) Oil, Ascophyllum Nodosum (Kelp) Extract, Helianthus Annuus (Sunflower) Extract, Rosmarinus Officinalis (Rosemary) Leaf Extract, Oryza Sativa (Rice) Bran Extract, Ascorbyl Palmitate, Tocopherol, Lecithin, Xanthan Gum, Polysorbate 60, Sodium Acrylates Copolymer, Caprylyl Glycol, Phenoxyethanol, Hexylene Glycol, Butylene Glycol, Tetrasodium EDTA, Potassium Hydroxide, Ethylhexylglycerin, Fragrance/Flavor.
SO JELLY: Water/ Aqua/ Eau, Glycerin, Coco-Caprylate/Caprate, Polyisoprene, Ceteareth-6 Olivate, Butylene Glycol, Cetearyl Alcohol, Opuntia Ficus-Indica (Prickly Pear) Seed Oil, Cereus Grandiflorus (Cactus) Flower Extract, Ascophyllum Nodosum (Kelp) Extract, Olea Europaea (Olive) Fruit Oil, Olea Europaea (Olive) Oil Unsaponifiables, Terminalia Ferdinandiana Fruit Extract, Hydrogenated Olive Oil, Asparagopsis Armata Extract, Polysorbate 60, Ethylhexylglycerin, Potassium Hydroxide, Sorbitol, Phenoxyethanol, Carbomer, Tetrasodium EDTA, Potassium Sorbate, Fragrance/Parfum.
Customer Reviews
Filter Reviews:
skin
Freck
Cactus Water
makeup
cleanser
face
pores
moisturizer
irritation
little
Emma H.

United States
I recommend this product
11/29/2020
Feeling Like a Rich *****
Really love it. You get so much product for the money. My skin is glassy and glowy. I feel like Richie Rich if he had a skincare routine. The cactus water is unscented so if you're not use to fermented smells it's a lil much. But as far as the creams they will last you more than a year. My favorite thing in the set is the cactus eye cream. Im an older millennial, and you can tell these products don't just look nice but perform.
Marissa H.

United States
11/20/2020
The haul
Loved all of these !
Hanna K.

United States
11/19/2020
one of the best things to happen to me in 2020
I love every single item in this bundle!! I have oily/acne prone skin with mild eczema on my inner cheek and this has helped my skin tremendously!! My skin is so dang soft and it has helped my acne and pores a lot. I 10000000% recommend this!!
Marissa H.

United States
11/11/2020
The HAUL
Every product in this box is of full size, and they do amazing things for your skin ! 100% recommend. Although I also ordered the cheek blush in fielding & it's way to dark and the Freck xl is very very small.
Jenna L.

United States
11/01/2020
Love this stuff
My skin has really improved since using Freck! My pores have gotten smaller, my closed comedones are reduced, and overall my skin is brighter and smoother. I'm really pleased!
Crystal F.

United States
10/14/2020
Savior of my Dry Skin
As someone with very dry, sensitive skin, products are usually too stripping and irritating for my skin. The cleanser is so gentle, the cactus water leaves your skin feeling so cleansed and cool without any irritation, and the eye and face moisturizers give your skin instant hydration. How I can really tell it works is if I go 2 days without it, my dry skin returns. Love it all!
Miranda C.

United States
09/03/2020
Love!!
I love every product. I took some before pictures and will take some updates after a month. My skin feels amazing but my main concern was color imbalance and sun damage.
leah c.

United States
08/28/2020
Hellz yeah
Love my new regimen. #selfcare just got better thanks to Freck
Alexandra L.

United States
08/14/2020
My New Favorite Skincare Routine!
I follow my friend's makeup and beauty blog, and she had given a glowing review of Freck's Rich ***** moisturizer a while back. Generally, I only have issues with dry skin during the winter, but just recently this summer, I've been having a lot more dryness than usual. Overall, my skincare routine was pretty non existent, and mostly comprised of me slapping on whatever moisturizer I could find around. I was running out of my last moisturizer, so I figured it was time to try something new. I remembered my friend's review, and so on a whim, I bought the entire Haul package just to try out. First off-- I love the simple, elegant packaging design. Material wise, I really appreciate the fact that the Cactus Water toner is packaged in glass instead of plastic and the Rich ***** / Foreclay / So Jelly are in a recyclable metal tube. Sustainability is a huge plus for me when choosing skincare products, so I'm really happy that these products already check that box for me! Secondly, as someone who never really ever used toners in the past, I was pleasantly surprised at the Cactus Water toner. It's so refreshing and gentle to use, and has quickly made toner a major part of my daily routine. Lastly, and most importantly, the Rich ***** moisturizer and So Jelly are currently my newest favorite skin care products. Both their scent and texture are so delicate and gentle. As someone who is irritated easily by a lot of scents and perfumes in products, this is a huge relief for me. And true to its name, it is truly a rich, deep moisturizer, yet still manages to feel light and natural, blending into my skin quickly without feeling oily. My skin no longer has those dryness issues I mentioned before, so I'm very happy with these products. Overall, these products have revamped my entire skin care regime (which was pretty much non existent before…) and made me a little more excited to start and end my day with them. I definitely see myself purchasing these again and am particularly excited to try the cleanser when it's back in stock.
Jess

United States
08/13/2020
My skin is happy for the first time in months
All of these products are awesome and I'd buy them all separately if I had to but luckily they come as a set for a reasonable price. My skin has been dry and sensitive since this past winter and now that I have been inside in air conditioning for the past few months. After using this set for two weeks my skin is soft and moisturized even when I wake up in the morning after my window ac is going full blast next to my bed. I can step out of a hot shower and not feel my skin instantly tighten up and feel rough to the touch. Most moisturizers just make my skin feel soft for a few hours. This stuff works all day, I just apply once in the morning and then once in the evening after I wash my face. The so jelly eye cream has greatly reduced the itchiness, puffiness and crepey appearance above my eyes, it's even reduced the development of skin tags above my eyes which I believe were caused by irritation and me rubbing (bc of itchiness). Will definitely be buying this set again, though it looks like it will probably last me 6 months! Really good value for what you get in terms of quantity and quality.
choosing a selection results in a full page refresh
For orders of 5 or more, please reach out to customer service at hi@freckbeauty.com