THE FINAL TOUCH
A $38 VALUE
Ur surefire way to amp up any look to 11. Frost yourself with some frecks & a graphic liner moment to create your signature look.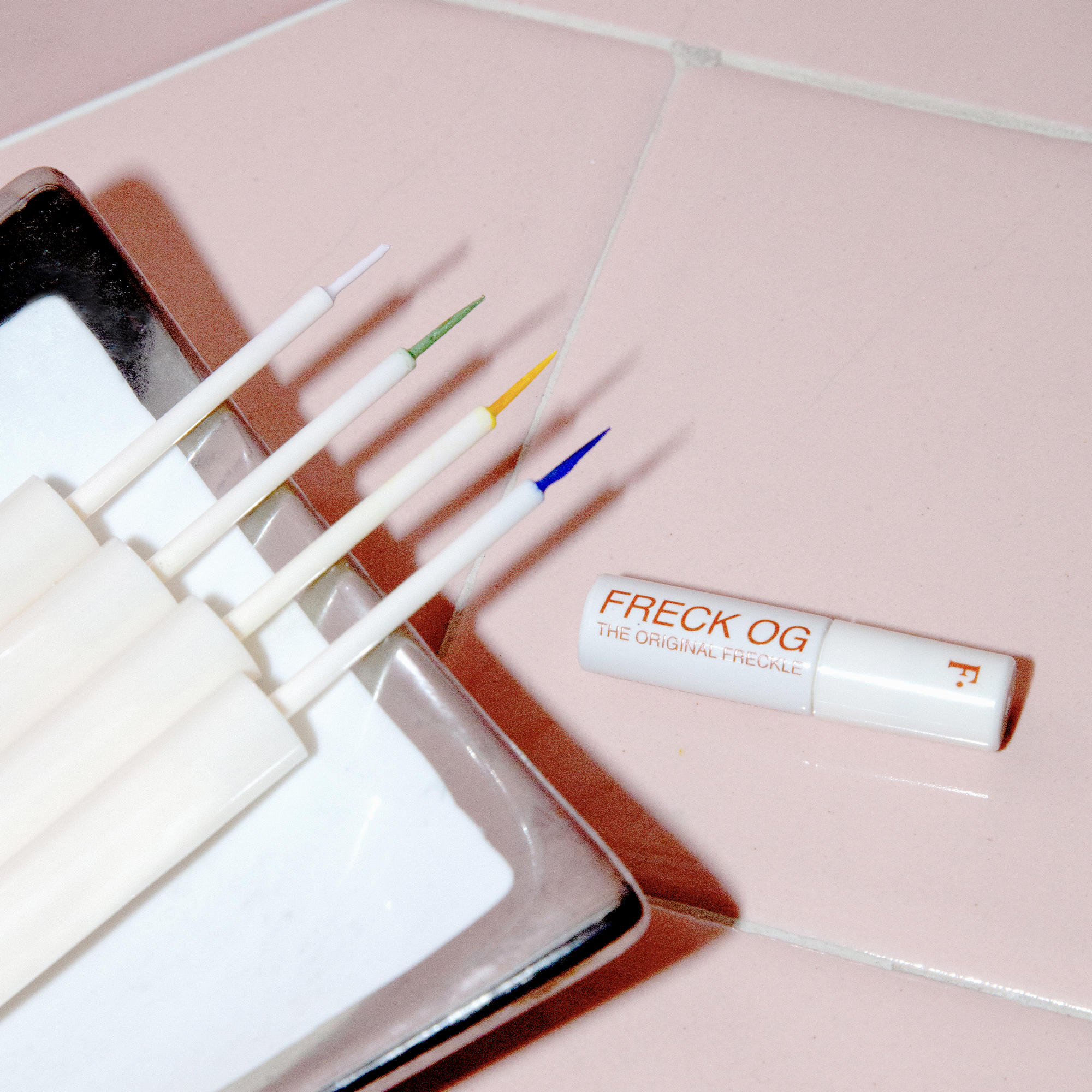 PRODUCT DETAILS
FRECK OG: Boasts the most natural, longest lasting faux freckles on the market. Quick, realistic, buildable, and your new bff.


LID LICK: Smooth as butter, pigment rich, razorsharp paintbrush & all day wear. You're welcome. Apply to lids, brows, cheeks, anywhere you fancy. Just make sure it's external use only :). Shake well before use. Store in a cool & dry place.
WHAT OUR CUSTOMERS SAY
"I'm obsessed with martian. the color is perfect. application is so easy. i don't even need to use makeup remover to touch anything up. packaging is cute too." -Verified Review From Melanie
"I've gotten to an age where my freckles have somewhat faded. I love bringing them back to the forefront. I no longer wear base or powder thanks to Freck. It looks so natural and flawless. I really love this product!" -Verified Review From Kathleen
INGREDIENTS
FRECK OG THE ORIGINAL FRECKLE: Water/ Aqua/ Eau, Rosa Centifolia Flower Water, Polyacrylic Acid, Sodium Dehydroacetate, Potassium Sorbate, Sodium Hydroxide, Glycerin, Tetrasodium EDTA, Ethyl Acetate/Cyclohexane, Acrylic Acid. May Also Contain: Red 40 (CI 16035), Yellow 5 (CI 19140), Blue 1 (CI 42090)
PARTYWAVE: Water/ Aqua/ Eau, Rosa Centifolia Flower Water, Polyacrylic Acid, Sodium Dehydroacetate, Potassium Sorbate, Sodium Hydroxide, Glycerin, Tetrasodium EDTA, Ethyl Acetate/Cyclohexane, Acrylic Acid. May Also Contain: Red 40 (CI 16035), Yellow 5 (CI 19140), Blue 1 (CI 42090)
ROMY: Water/ Aqua/ Eau, Rosa Centifolia Flower Water, Polyacrylic Acid, Sodium Dehydroacetate, Potassium Sorbate, Sodium Hydroxide, Glycerin, Tetrasodium EDTA, Ethyl Acetate/Cyclohexane, Acrylic Acid. May Also Contain: Red 40 (CI 16035), Yellow 5 (CI 19140), Blue 1 (CI 42090)
MARTIAN: Water/ Aqua/ Eau, Rosa Centifolia Flower Water, Polyacrylic Acid, Sodium Dehydroacetate, Potassium Sorbate, Sodium Hydroxide, Glycerin, Tetrasodium EDTA, Ethyl Acetate/Cyclohexane, Acrylic Acid. May Also Contain: Red 40 (CI 16035), Yellow 5 (CI 19140), Blue 1 (CI 42090)
HIT THE DIP: Water/ Aqua/ Eau, Rosa Centifolia Flower Water, Polyacrylic Acid, Sodium Dehydroacetate, Potassium Sorbate, Sodium Hydroxide, Glycerin, Tetrasodium EDTA, Ethyl Acetate/Cyclohexane, Acrylic Acid. May Also Contain: Red 40 (CI 16035), Yellow 5 (CI 19140), Blue 1 (CI 42090)
choosing a selection results in a full page refresh
For orders of 5 or more, please reach out to customer service at hi@freckbeauty.com