FRECK OG
THE ORIGINAL FRECKLE 1.35 ML | 0.045 FL OZ
The World's First Freckle Cosmetic that took the internet by storm. FRECK OG boasts the most natural, longest lasting faux freckles on the market. Quick, realistic, buildable, and your new bff.
Freck stands behind our products 100%. We offer free returns up to 14 days after you receive your package.
How to apply
Lightly apply FRECK OG as a cluster of dots, dipping your brush often. Allow formula to sit and develop naturally on your skin. Here's where the magic happens: copy/paste your frecks by tapping them out across your skin. FRECK OG is compatible with all skin tones and looks best on darker skin when left longer before tapping.
Pro tip: lots of space between each tap will create the most natural freckles with the quickest application
What Our Customers Say
"ABSOLUTELY LOVE THIS PRODUCT! NEW HOLY GRAIL! This product is pure magic. It makes my makeup feel effortless and light. Makes me feel like I am finally complete with the freckles that I never had! With or without makeup, Freck makes my face feel fresh and youthful. I LOVE this product. I will never stop using it." -Verified Review From Maria P.
Ingredients
Water/ Aqua/ Eau, Rosa Centifolia Flower Water, Polyacrylic Acid, Sodium Dehydroacetate, Potassium Sorbate, Sodium Hydroxide, Glycerin, Tetrasodium EDTA, Ethyl Acetate/Cyclohexane, Acrylic Acid. May Also Contain: Red 40 (CI 16035), Yellow 5 (CI 19140), Blue 1 (CI 42090)
Customer Reviews
Filter Reviews:
freckles
makeup
face
skin
application
look
bottle
foundation
brush
ones
Wilma B.
I recommend this product
07/21/2021
Freck OG
I really love the product it does exactly what it says the freckles looks so original I am beyond belief I will be ordering more of your product I love very much thank you
Skyelar C.

United States
I recommend this product
07/15/2021
Loved it!
It truly does what it says! When you dot your face with the product be sure to dab the spot with your finger and keep doing so in different places so it blends and creates a more natural look! A little goes a long ways. I'm very happy with this product.
Jennifer S.

United States
I recommend this product
07/14/2021
55 year old user
Well it's embarrassing to put on fake freckles at my age but I have always loved makeup and just recently discovered this product. So better late then never on this fun discovery! I love it so much. Thank you freck.
Danielle F.

United States
I recommend this product
07/13/2021
MY FACE OR FILTER?
Love this product! I've always wanted freckles every since I used a snap filter with them! NOW I HAVE THEM! They last so long without smudging and I couldn't be happier with the result! I've gotten so many compliments! Sun kissed perfection!
valerie L.

United States
I recommend this product
07/11/2021
love love love
Its my second purchase I love it! and think its so much fun and adds to my attire.
Erika A.

United States
I recommend this product
07/06/2021
Adorable freckles without the sun damage!
Easy as pie (and who doesn't like pie?!). I have natural freckles, but they're faint enough to be covered by my foundation and I don't want to stand out in the sun and get fried just trying to darken them. Enter Freck OG. Now I can darken the freckles I do have without the sun damage! And it's super quick and easy to apply (gently boop the freckles I want to darken with brush, wait a few seconds, then gently pat with finger to "blend", then voíla!). I can't recommend this product enough!
Katie S.

United States
I recommend this product
07/01/2021
Worth the hype / money
I've wanted to try this for a while and finally decided to get some, and I really love it. I like to darken my existing freckles because I never go outside and they fade as a result - and this product is perfect for that. It's very easy to choose how dark to make them, or to create a large quantity of freckles in a few seconds. Plus it stays so well - yet comes off easily with face wash. I'm very happy with it.
Alexis J.

United States
I recommend this product
06/30/2021
Works great
It's works great, best if you let it dry a couple seconds then blend it. I get a lot of compliments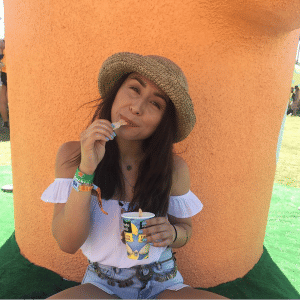 AM
Amanda M.

United States
I recommend this product
06/30/2021
FAVORITE FRECKLE PRODUCT / PRODUCT IN GEN.
I needed the freak XL bc I went through my OH way too quick! I have fair/tan skin & these freckles are so natural & my skin is quite sensitive and I had no reaction to the product whatsoever. LOVE!! xx
Kathryn R.

United States
I recommend this product
06/18/2021
Love this freckle product!!!
This company is going in all the right directions that I care about….thoughtful, healthy, clean and innovative. This is the most natural freckle product I have tried and its my 6th time buying…love love love!
choosing a selection results in a full page refresh
For orders of 5 or more, please reach out to customer service at hi@freckbeauty.com