RICH BITCH
CACTUS + VITAMIN C MOISTURIZER net wt. 1.7 oz
The light yet rich ultra moisturizer of your dreams. Morning and night, pat a small amount between fingertips and press into cleansed skin. Don't forget to pair with SO JELLY. You're killing it.
Freck stands behind our products 100%. We offer free returns up to 14 days after you receive your package.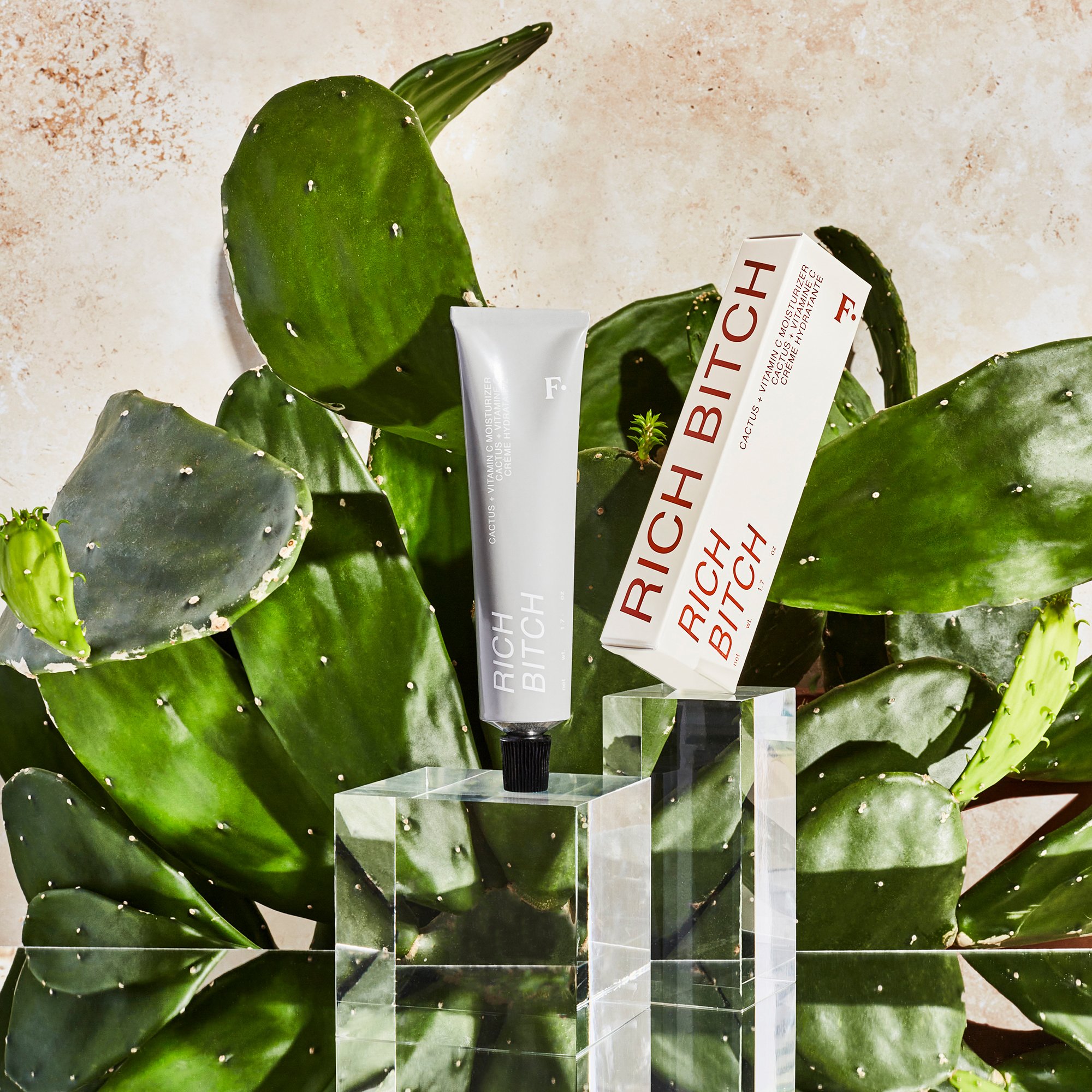 Key Ingredients
JOJOBA SEED OIL: Naturally contains Vitamins A, D, E and Omega 6 and 9
PRICKLY PEAR SEED OIL: Known to calm inflammation and redness
KELP EXTRACT: Rich in antioxidants, known to calm the skin & fight inflammation
ROSEMARY LEAF EXTRACT: Anti-inflammatory and anti-microbial properties
What Our Customers Say
"RICH BITCH paired with their toner is a miracle on my winter-dry acne scarred skin. It has not made me breakout whatsoever like other moisturizers have been doing lately. It keeps me looking naturally glowy all day and all night. Definitely adding all these products into my holy grail list." -Verified Review from Karen
Ingredients
Water (Aqua), Coco-Caprylate/Caprate, Caprylic/Capric Triglyceride, Hydrogenated Palm Oil, Cetearyl Alcohol, Glycerin, Cetyl Alcohol, Stearyl Alcohol, Simmondsia Chinesis (Jojoba) Seed Oil, Hydrogenated Coco Glycerides, Cereus Grandiflorus (Cactus) Flower Extract, Opuntia Ficus-Indica (Prickly Pear) Seed Oil, Cocos Nucifera (Coconut) Oil, Ascophyllum Nodosum (Kelp) Extract, Helianthus Annuus (Sunflower) Extract, Rosmarinus Officinalis (Rosemary) Leaf Extract, Oryza Sativa (Rice) Bran Extract, Ascorbyl Palmitate, Tocopherol, Lecithin, Xanthan Gum, Polysorbate 60, Sodium Acrylates Copolymer, Caprylyl Glycol, Phenoxyethanol, Hexylene Glycol, Butylene Glycol, Tetrasodium EDTA, Potassium Hydroxide, Ethylhexylglycerin, Fragrance/Flavor.
Customer Reviews
Filter Reviews:
skin
moisturizer
tube
Rich Bitch
price
size
face
Cactus Water
feel
Freck
Rosie A.

United States
I recommend this product
02/27/2021
Thee Best!!!
Absolutely L.O.V.E this product! I receive so many compliments on my skin and I attribute it to this cream. I use it day and night along with the So Jelly cactus eye cream. Amazing products!
Mia S.

United States
I recommend this product
02/25/2021
RICH ***** makes u feel rich... but whats with the new size and no pricing adjustments
I love the feel of this cream and I am so happy that it comes in large size of 3.6 oz. When I purchased it last month I was really excited about how much "bang for your buck" you get with this product because of the large size. Now, a month later Freck is selling RICH ***** in a 1.7 oz size.... but for the same price ($32) as the larger (3.6 oz) size. It seems like the 1.7 oz size should be about $16 since it is half the size of the original size. Other than that, I love RICH *****. I also have SO JELLY which is great for under the eyes. They work like a dream, especially in the winter. So I still give it 5 stars since it's super moisturizing and does the job.
Hey Mia, thanks for the love! We understand your concern regarding the sizing and a member of our customer service team is emailing you now to help : )
Kira M.

United States
10/12/2020
Will definitely reorder!
This may be the largest container of moisturizer I've ever seen!! . Amazing value! I have only been using this product for about a week, but I love it. It has played well with my super sensitive skin. My face and neck feel appropriately moisturized!
Colleen C.

United States
10/06/2020
Rich *****
I love this product
Whitney H.

United States
09/15/2020
I don't write Reviews
But I have to write this because I need this to never go away. My combo skin has been beautiful and soft.
Angelica E.

United States
09/09/2020
Love this
This moisturizer is buttery smooth and you don't need a lot for it to cover you whole face. The size of the tube is giant and will last you so long. My skin has felt so much softer after using this product. Definitely in my daily am and pm skin routine!
Delaney M.

United States
09/03/2020
Looove
I've been using rich ***** for about a week and love it so far! The tube is HUGE compared to other moisturizers at similar prices, and it's super creamy but doesn't leave you looking oily. I have pretty sensitive skin and it manages to leave my skin happy! Thanks Freck :)
Aubyn C.

United States
08/15/2020
amazing!
the texture feels so luxurious on the face instantly adds hydration to my face. i usually put it on in the morning after i use the cactus water and i notice my skin is visibly plump and moisturized. my boyfriend loves it too!
isabel

United Kingdom
08/15/2020
very moisturising and lasts a long time
perfect for my dry skin and a little bit goes a long way so the product lasts for months even being used every day. has a really unique and fresh cactus scent. too thick to wear under make up but otherwise it's perfect.
Karen C.

United States
08/10/2020
Love your products!!
I cannot say how much I love the scent.
choosing a selection results in a full page refresh
For orders of 5 or more, please reach out to customer service at hi@freckbeauty.com