ON REPEAT
PH Balanced Cactus Cleansing Gel 177 ML | 6.0 FL OZ
ON REPEAT is a shot to the face of plant extracts, formulated with delicate cleansing agents strong enough to remove your makeup while gentle on sensitive skin & eyes. ON REPEAT moisturizes with cactus flower while nourishing the skin with antioxidants. Finally, a cleanser that works with your moisturizer, not against it.

Restore to factory settings: apply 2-3 pumps to dry or wet skin, morning and night. Pair with CACTUS WATER for a squeaky clean egg. From now until forever 20% of ON REPEAT profits will be donated to BLM funds.
Freck stands behind our products 100%. We offer free returns up to 14 days after you receive your package.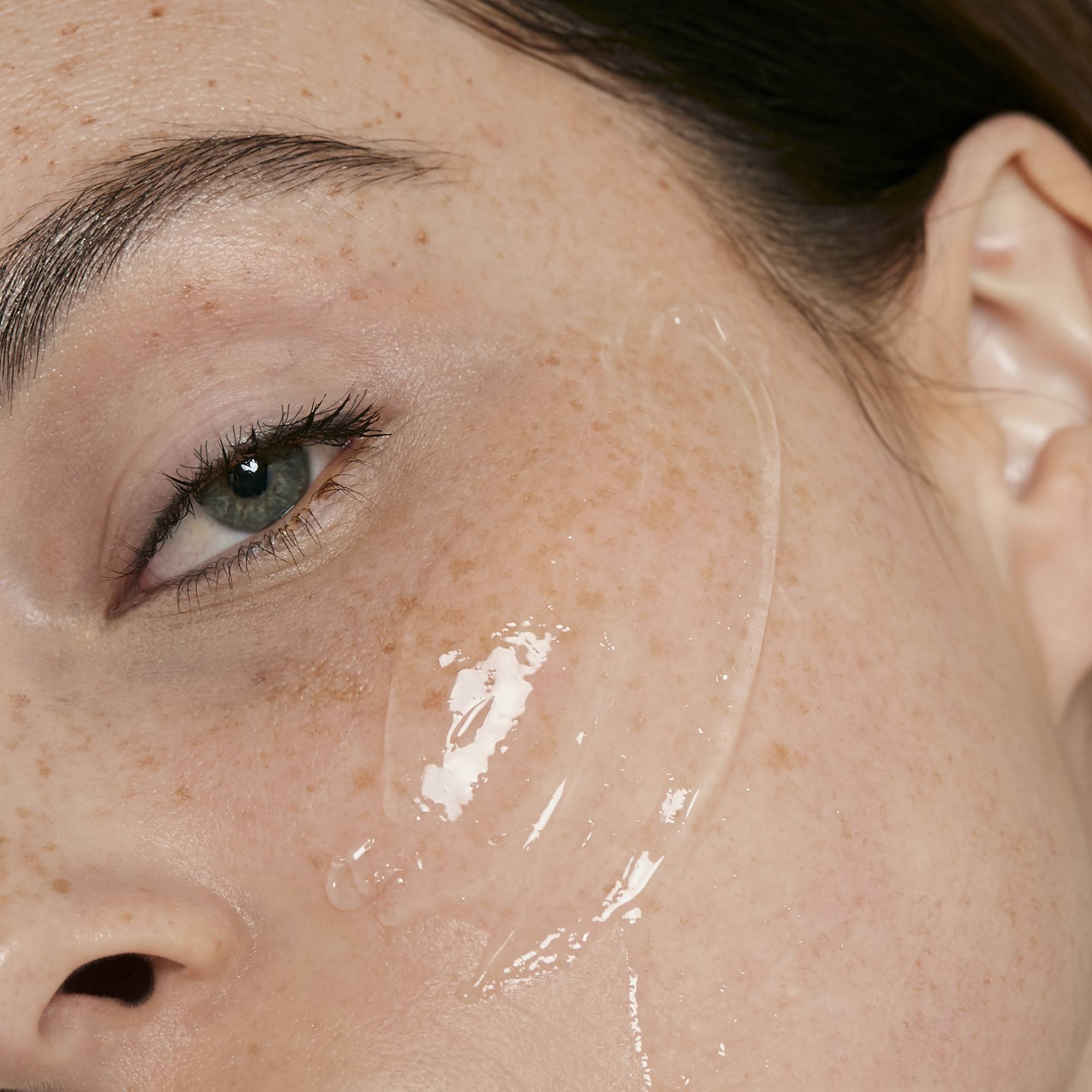 KEY INGREDIENTS:
PLANT COLLAGEN: Comprised of five different plant extracts which are packed with amino acids and plant proteins
ALLANTOIN: Helps improve moisture retention by relieving dryness and soothing the skin
QUANDONG: Also known as Australia's native "wild peach." This bright-red fruit comes packed with antioxidant power due to the presence of 3-glucoside, which can help fight against free radicals
WATTLE SEED: Filled proteins and unsaturated fats to feed the face
INGREDIENTS:
Water (Aqua), Glycerin, Poloxamer 184, Propanediol, Hydroxyethyl Acrylate/Sodium Acryloyldimethyl Taurate Copolymer, Citrus Glauca (Desert Lime) Fruit Extract, Santalum Acuminatum (Desert Quandong) Fruit Extract, Cereus Grandiflorus (Cactus) Flower Extract, Acacia Victoriae (Gundabluie) Fruit Extract, Daucus Carota Sativa (Carrot) Root Extract, Chenopodium Quinoa Seed Extract, Panax Ginseng Root Extract, Oryza Sativa (Rice) Extract, Glycine Max (Soybean) Seed Extract, Potassium Hydroxide, Butylene Glycol Allantoin, Polysorbate 60, Sorbitan Isostearate, Phenoxyethanol, Ethylhexyglycerin.
WHAT OUR CUSTOMERS SAY
"I'm always very hesitant to try new products because I have so many allergies and my skin is more sensitive than a newborn baby, but was in the market for a cleanser! LET ME TELL YOU, ON REPEAT IS IT! My skin has never felt so clean and soft." -Verified Review From Michelle N.
Customer Reviews
Filter Reviews:
cleanser
skin
wash
face
On Repeat
reordering
most
diva-ish
skincare staple
tendency
Kira M.
United States
I recommend this product
10/12/2020
Super Sensitive Skin
I have incredibly sensitive skin which has a tendency to angry if you look at it wrong. I have been using the On Repeat cleanser for almost two weeks now, and I adore it! It isn't drying, is super gentle, and has yet to turn my "diva-ish" skin red or break me out. This will be a definite skincare staple for me!
Samantha S.
United States
10/06/2020
On Repeat is right!
I truly love On Repeat. Its the perfect wake up and calm me down cleanser. Its mild but effective and I love the subtle smell. It cleanses the face and creates a blank canvas for your day. You are truly unstoppable if you follow up with the Cactus Water toner!
Delaney G.
United States
09/29/2020
Perfect for dry skin!
This is an amazing cleanser - my skin is sensitive and extremely dry, and this leaves my face feeling soft and clean. I wear a lot of heavy, colorful, waterproof makeup and this gets most of it off with one wash, and definitely all of it in two! Highly recommend, will be reordering this!
Kim P.
United States
08/16/2020
Good Stuff Y'all!
I was skeptical but so far so good. It's a gel consistency, no lather but it cleans very well. I use it as my 2nd wash after I remove my make up. Leaves my skin clean and nourished. I'm very pleased with this cleanser and recommend.
Michelle N.
United States
05/22/2020
OBSESSED!
I'm always very hesitant to try new products because I have so many allergies and my skin is more sensitive than a newborn baby, but was in the market for a cleanser! LET ME TELL YOU, MUGSHOT IS IT! My skin has never felt so clean and soft.
Jared H.
United States
05/06/2020
Freshhh AF
I've been loving how gentle this cleanser is on the skin. I've been using it everyday for a few weeks and I can tell how soft my face feels throughout the day; it's less oily, and overall looks and feels clean. It's comforting going to sleep at night knowing that my skin is free from any leftover makeup that might of been missed from my makeup wipe.
Kathryn R.
United States
05/02/2020
Love mugshot
Great experience, love the bottle, logo, name and the product is just what I've been looking for in facial cleanser, not too drying and my skin feels really clean after use.⭐️⭐️⭐️⭐️⭐️
Felicia S.
United States
04/22/2020
Loving It
To be completely honest, I was in a debate on whether I should get a new cleanser because my skin lies on the sensitive side and I've had earlier nightmares with other products. So I was hesitant in trying a new product. But I'm glad I gave Mugshot a chance! I love this cleanser - it's gentle, doesn't have any unnatural **** in it, it's calming to my skin, and it leaves my face feeling clean and soft. It removes my makeup better than any other natural cleanser I've used. I paired Mugshot with Cactus Water - this combo is freaking perfect. I can feel and see the difference in my skin already and it's only been a week.
Sophie
United States
04/22/2020
I love it!
I love Mugshot! It's very gentle and has a light simple scent. My skin is noticeably smoother and nicer looking after just a week of use. I use it with my vibrating face scrub brush and even though it doesn't foam I can tell I'm getting a great clean.
CN
United States
04/22/2020
Cleanser Heaven
I have to say this is a great cleanser. It leaves your skin clean and surprisingly smooth! I can feel the hydration difference when I'm using it and unlike most cleansers - your skin isn't dry afterwards. I also have a beard and it works great with it, also rare for a cleanser. All around a great product and probably the best cleanser I've tried to date.
choosing a selection results in a full page refresh
For orders of 5 or more, please reach out to customer service at hi@freckbeauty.com