RICH BITCH
CACTUS + VITAMIN C MOISTURIZER net wt. 1.7 oz
The light yet rich ultra moisturizer of your dreams. Morning and night, pat a small amount between fingertips and press into cleansed skin. Don't forget to pair with SO JELLY. You're killing it.
Freck stands behind our products 100%. We offer free returns up to 14 days after you receive your package.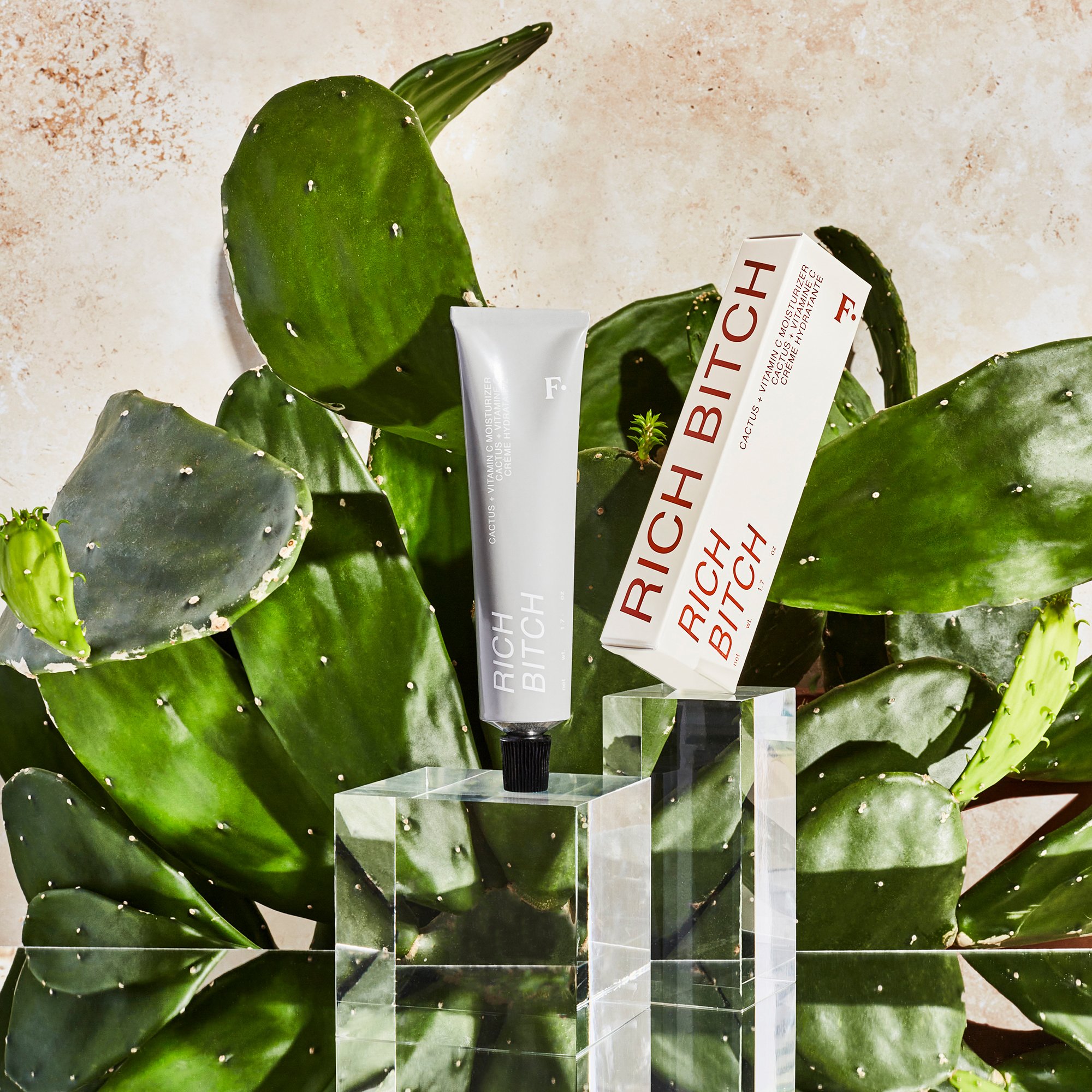 Key Ingredients
JOJOBA SEED OIL: Naturally contains Vitamins A, D, E and Omega 6 and 9
PRICKLY PEAR SEED OIL: Known to calm inflammation and redness
KELP EXTRACT: Rich in antioxidants, known to calm the skin & fight inflammation
ROSEMARY LEAF EXTRACT: Anti-inflammatory and anti-microbial properties
What Our Customers Say
"RICH BITCH paired with their toner is a miracle on my winter-dry acne scarred skin. It has not made me breakout whatsoever like other moisturizers have been doing lately. It keeps me looking naturally glowy all day and all night. Definitely adding all these products into my holy grail list." -Verified Review from Karen
Ingredients
Water (Aqua), Coco-Caprylate/Caprate, Caprylic/Capric Triglyceride, Hydrogenated Palm Oil, Cetearyl Alcohol, Glycerin, Cetyl Alcohol, Stearyl Alcohol, Simmondsia Chinesis (Jojoba) Seed Oil, Hydrogenated Coco Glycerides, Cereus Grandiflorus (Cactus) Flower Extract, Opuntia Ficus-Indica (Prickly Pear) Seed Oil, Cocos Nucifera (Coconut) Oil, Ascophyllum Nodosum (Kelp) Extract, Helianthus Annuus (Sunflower) Extract, Rosmarinus Officinalis (Rosemary) Leaf Extract, Oryza Sativa (Rice) Bran Extract, Ascorbyl Palmitate, Tocopherol, Lecithin, Xanthan Gum, Polysorbate 60, Sodium Acrylates Copolymer, Caprylyl Glycol, Phenoxyethanol, Hexylene Glycol, Butylene Glycol, Tetrasodium EDTA, Potassium Hydroxide, Ethylhexylglycerin, Fragrance/Flavor.
Customer Reviews
Filter Reviews:
skin
moisturizer
size
tube
price
face
Rich Bitch
Freck
mask
love
Ashley L.

United States
I recommend this product
09/12/2021
Light Weight + Powerful
This moisturizer will SHOCK you. Not only is it lightweight and perfect to layer under makeup, but the ingredients really do pull their weight and work their magic. I've noticed a visible and physical difference in the moisturized/elasticity of my skin and also see a more even skin tone. My face feels moisturized all day, but not heavy... AND the smell is the perfect clean, sweet, natural smell.
Morgs

United States
I recommend this product
09/09/2021
Rich and Light
I've been using Rich ***** as my night time moisturizer for about a week now and WOW! It comes out of the tube all thick and creamy, but it feels so light on my face. It soaks in so quickly, so I can feel the richness of the cream and the great results, but it isn't heavy. It's pretty heavenly! I've been waking up with super bright skin since using it! Like other reviews, I'm disappointed they changed the size especially since it's so nice and I can actually use it every day, and a lot of the advertisements seem to use a larger tube. For reference, I'm 23 with skin that's just a touch on the oily side.
Mrs. Smith

United States
I recommend this product
08/31/2021
I liked the name. But it too common. It should have been head *****!
I would like more quantity. Tube is small.
missy

United States
I recommend this product
08/23/2021
this product saved my face
I'm 49 and I need vitamin C in my skincare routine, but all I've tried makes my cheeks red and scaly (allergic reaction or sensitivity?). This moisturizer actually works AND my face didn't have a reaction. I'm IN LOVE with the product, so I ordered one from a local retailer curbside pickup. Oh no! This bottle is so tiny. Like others have said, I use RB day and night and will fly through this tiny tube. Please tell me the bigger one will be back.
Joy
I recommend this product
07/22/2021
This moisturizer is unreal!
I have never used a moisturizer I love as much as this. It is so creamy and smooth, my skin is left feeling hydrated and soft. Most moisturizers leave my skin feeling weighed down and and greasy, but this sinks into this skin nicely. I just really wish they had the bigger size still, I'm really disappointed that this is a 1.7 oz now :( I really hope the bigger size is brought back.
hey gorgeous! a member of our team will be reaching out via email to help :) xo
CASEY N.

United States
I recommend this product
07/01/2021
Amazing lilac moisturizer
This is a really good moisturizer actually. Some background info about my skin, it is dry, breaks out with every vitamin c serum, and because I wear a mask at work is acne prone. This moisturizer does not break my skin out at all, it makes it feel velvety soft which if I wore foundation would be a perfect primer too. It's surprisingly a bit heavy which I think it perfect for dry skin or combo skin people out there. I think oily skinned people would be fine too probably just use less of it, but it also smells like lilacs which is really love. I'd say definitely give this a try if you've been eyeing it for awhile. I was very surprised how much I love freck skincare now.
Erin H.

United States
I recommend this product
06/26/2021
favorite moisturizer!!
I loooveee this product! I just recently repurchased and I'm also sad about the new size :( I hope freck offers the larger size again soon because I'm not sure how long my new one will last me. I still love this moisturizer so much though and will recommend it to everyone
hey gorgeous! a member of our team will be reaching out via email to help :) xo
Cheyenne

United States
I recommend this product
06/22/2021
LOVE this product but so disappointed in the size
I've been obsessed with Freck for awhile now. Use the eye cream, mask, moisturizer and oil. Today I received my next moisturizer in the mail and I was so let down by the size. I loved how long the old size lasted and I've been such a die Freck fan because you got so much bang for your buck. No denying this is an amazing product, but wish I could have gotten the old size :(
hey gorgeous! a member of our team will be reaching out via email to help :) xo
Alvin V.

United States
I recommend this product
06/12/2021
Amazing moisturizer but...
I'm so disappointed about the product size reduction. I used to slather this on because I love thick rich moisturizers as part of my night time skincare ritual. 1.7 ounces won't last long.
Hey! A member of our customer support team will be reaching out to you soon! X
niko

United States
I recommend this product
05/23/2021
10/10 but...
i absolutely love this product. i have incredibly sensitive skin with pretty severe eczema flare ups, and rich ***** is soooo soothing and hydrating. i love it and my skin loves it more! BUT it used to be WAY BIGGER. it lasted forever and to slather it on it was a miracle. but half the size for the same price is...yea... :/ Still love the product but the size and value change is really disappointing
choosing a selection results in a full page refresh
For orders of 5 or more, please reach out to customer service at hi@freckbeauty.com